Hi,
My name is Suz, I'm 20 and I live in Australia. I'm about 168cm tall, I have brown hair and blue eyes. What else is there to tell?


I enjoy reading, writing, sports, web design and I LOVE Australian television, correction. I live for it! From Neighbours to Home & Away to Water Rats to Seachange to Love is a Four Letter Word, if it's made in Australia, I'll watch it. The people I live with will testify to that!

I basically think that Australia is... well tops! Or as the clich&eacuted saying goes "The world is round and down under is on top" (more testimonies to this can be found at [ibelieve.com.au], a purely aussie site).

I'm curretly doing my first year at [Swinburne University in Lilydale] studing a Bachelor of Social Science (Interactive Multimedia). Which will take me... I'm not sure. But I do a minor in both Media and Information Technology and my major is, of course, Interactive Multimedia. The subjects that I'm taking this semester (1, 2001) include; Information Methods, Statistics & Research Methods, Texts & Contexts & (my most despised) Software & Multimedia Concepts. The reason I hate this subject you ask? The answer; Visual Basic! I HATE Visual Basic, I can't use it and basically the subject is crap. I know, I know, my attitude is the problem sigh but I only have it for another 2 months so I'll be over it. I can't wait until next semester when I take; Writing for the Media and also Multimedia Web Design, they both sound so interesting.

I've already done first year of a Commerce/Accounting degree in 1999 at [Deakin University] in Warrnambool (my home town), but it was also crap and I dropped out. But that's another story.

At the moment I live [on-campus] and to be honest I'm a little disappointed by it. Not to say that it's not great. But as the apartments are new and not all completed there are only 30 students staying here, but perhaps when we get more it will improve. Check out the photos page for some snaps!

What else is there to say? I'm currently reading "The Chamber" by John Grisham and it's excellent. I just finished "The Partner" which had the most awesome twist at the end and not long ago "The Rainmaker". I adore books by John Grisham, what can I say? I'm addicted?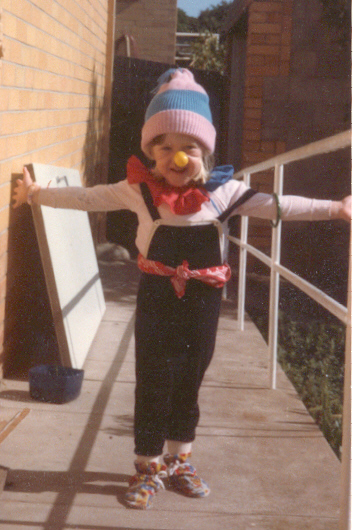 Speaking of addictions, I'm addicted to [MILO!] Again the people I live with will agree with me. I can't help myself!
I'm also addicted to the internet, but then again, who isn't these days? I'm currently connected through [goconnect.net] because they're free. Though they do plant an ugly banner on your screen but when it's free who gives a toss? I've heard there's ways around it anyway :) They offer a fast connection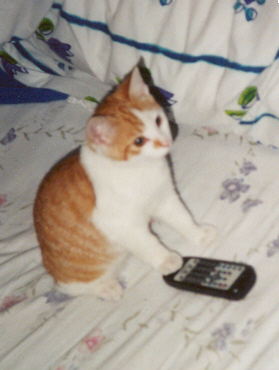 but aren't 100% reliable but again, I'll get over it.

At [home in Warrnambool] I have a pet cat, Pippa, that I adore.
He still live's at home where he can sit around all day and do absolutely nothing at all, apart from chase leaves and imaginary things around the garden. He also likes to chase ducks into the river. He doesn't realise that he'll get wet when he falls in ;). But enough about my cat.

I'm sure that I'm boring you all, but you have the opportunity to leave, I'm not stopping you. I don't have a lot to say, except that you should all [email me] and let me know what you thought of my page. Check back for updates, I'm not sure where I'll display them but perhaps Rach will let me steal an idea from her [page] and use the little boxes. But first she'll have to show me how to use them ;-p. But she's such a legend (suck, suck) I'm sure she will...
Anyhow, I'm running out of stuff to talk about. Have a look around, let me know what you thought and well, enjoy!