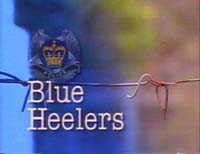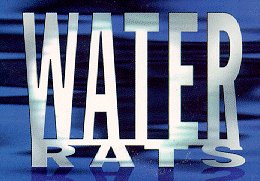 ---


[ B L U E H E E L E R S ]

Somewhere in Victoria is the small, quaint, fictional town of "Mt. Thomas." Here people go about their everyday lives as if it wasn't the crime capital of the world. That is, until something happens to them, the coppers fix it up and we never see them again.

Blue Heelers started in 1994 with most thinking that it wouldn't last, but, here we are in 2001 after suffering major cast departures including; William McInnes, Tasma Walton, Damien Walshe-Howling & of course, who could forget, Lisa McCune? Not even the TV Week Logies could forget her! But what can you do? And of course the most recent - or at least will be soon, is Rupert Reid, set to depart our screens sometime in June as he's already finished filming.

Most officers have arrived in Mt. Thomas from the city and are dubbed 'fish out of water,' our young police officers must not only fight crime and apprehend the wrong doers, they must also fight the age old conservatism and chauvinism of city vs bush. Each and every officer that has arrived at the station has walked into the station and instantly not seen "eye to eye" with someone or "gotten off on the wrong foot" wouldn't it be nice to have a peaceful beginning? And now with Rupert Reid leaving our screens in June we are set for another new member - Constable Evan Jones (played by Ditch Davey) and even he can't seem to make a smooth entry.

In the city, police work is too often just a clinical matter of life and death. In our overburdened society, victims become as nameless as their assailants. The result is an equally anonymous style of policing. But in the country, real community based policing connects directly with the rural lifestyle. Because in the country, police work is people. - something that Tom Croyden has reminded us time & time again, so much so that each time we see a new member arrive he tells them the same thing and chorusing along with him are the other members of the station as they have heard it many a time before.

Each week we see a new case come along with new people, and then the next they disappear. Why is that? It's the eternal question with each and every tv show to grace our screens... Why is it that past characters manage to drop of the planet 2-3 weeks after they leave a show? Perhaps dwelling on the past isn't good for ratings? But put a little reality in it perhaps.

And when all else fails, add a little (or hint thereof) romance - [read: Maggie & PJ, Maggie & Wayne, Maggie & Ben, Maggie & Roman, Dash & Adam, Dash & Robbie, PJ & Gina, Wayne & Roz, Nick & Zoe, Chris & Adam, Jack & Tess, Jack & Jo, Ben & Tess, Tom & Sally, Tom & Chris - 'nuff for you?]. For more "shippers" info visit Rach's Page she's got it all wired.


top


---


[ W A T E R R A T S ]

"If it's wet, it's ours" The commonly referred to catch cry of the Sydney Water Police, the location of Water Rats with the beautiful backdrop of Sydney, the harbour and more specifically, THE BRIDGE.

This high action drama unfolds infront of us every Tuesday night (recently moved to the 9:30 slot to the dissatisfaction of many viewers, like myself whom tune into either "Rove Live" or "Love is a Four Letter Word" at this time). Once a week, we are captivated by the boat chases, boatshed blasts and of course the uncanny way that they are able to wrap up a case so quickly and find the most obscure piece of evidence damming enough to convict the given criminal.

But all that aside, it's a great show. Many say that it hasn't survived the departures of the two original leading cast members of Colin Friels and Catherine McClements, and perhaps they're right, but still manages to pull an audience each week. Other major cast departures include; Raelee Hill, Jay Laga'aia, Scott Burgess, Sophie Heathcote, Joss McWilliams (some to a lesser extent than others). The recent romances or flings such as Mick & Emma, Jeff & Vanessa, Gav & Eva, Donna & Matt, Mick & Alex and just recently the kiss between Jack & Alex have kept us entertained and tuned in.

As with Blue Heelers, in my opinion with so many cast departures a TV show cannot stay the same, but I feel that recently Water Rats has definately picked up with some "ripper" episodes. Most recently "True Blue" aired here in Australia in which we find out that Dave McCall (remember him) has died, so they all go down to the Cutter Bar (in the middle of the day) to mourn his loss. A great episode [you can see some screencaptures here].

There's not much more to say except that it really is a great show. And this review bites. Contributions are more than welcome! Credit give where due.